Storage Fuengirola
In Tucan we offer
storage services in Fuengirola
of different sizes depending on the need you have.
Our furniture repositories are made of wood, and fulfill the purpose of storing and preserving furniture or belongings, with the
best possible protection.
If you store your belongings with us, you can visit them whenever you need to check their condition, or to remove part or all of your belongings.
Furniture rental in Fuengirola
If you need to rent a furniture repository, count on us.
We have storage warehouses with easy access and located in Fuengirola. With different sizes to offer you the one that best suits your needs.
Leave your belongings renting a secure furniture repository. Our warehouses are equipped with security and control mechanisms to prevent your belongings from being damaged or stolen.
We have physical surveillance 24 hours a day and alarms connected directly to the police.
Storage services nearby:
We offer furniture storage services in Sotogrande
Check the price of furniture repository in Marbella
The best furniture repository in Malaga
Cheap furniture repository in Mijas Costa

Request a quote
Ask us for a customized quotation with no obligation whatsoever.
Contact us at

Social Reviews
Social reviews about Removals services
Social Reviews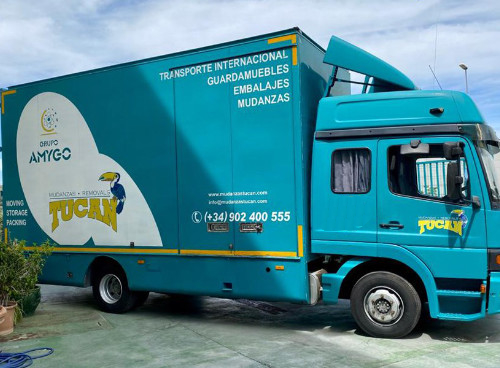 "I have been fortunate to have my company hire Tucan Movers for my international move.
Very professional at all times. Even though my furniture was not of great value, they treated it with more care than I would have taken myself.
They have been very easy to work with, very friendly staff and highly recommended."
"I am very satisfied with the delicacy with which they have treated my belongings. I was very worried because it was my first move and everything went as agreed."
"Incredibly good service. You did the whole move quickly and flawlessly. I highly recommend you."
"Professional service. If you care about your belongings, don't entrust them to just anyone. They assure you the service and it shows professionalism."