Home
/
Removals Torremolinos
Removals Torremolinos
When you are going to carry out a
removal
, the best thing to do is to leave it in the hands of professionals. Avoid stress, forget about loss of materials or damage during transportation and get satisfactory results with real
professional movers in Torremolinos
.
If you are
moving to Torremolinos
and need help with the move, count on Mudanzas Tucan, we can help you!
We have been carrying out r
emovals for more than 25 years
, so we are fully specialized in this field. Throughout these years, we have helped a large number of people move to
Torremolinos 
in a professional and, above all, efficient way. Forget about the worries that come with moving home, and let us take care of the hassle. Just wait and enjoy the results
We have the best team of professionals for
removals in Torremolinos
, experienced specialists who can help you with any relocation you wish to carry out, both nationally and internationally.
We carry out urgent removals in Torremolinos
We are aware of the speed with which some removals must be carried out, which is why we carry out urgent removals in Torremolinos with the maximum guarantee possible.
When you contact us, we will give you an estimate for a quick removal in Torremolinos, so that when you give the go-ahead, we can start organizing everything. With years of experience, we have developed specific action protocols to make our removal service as efficient and fast as possible.
We have all the necessary elements to be able to carry out the removal as quickly as possible, whether it is packing, as well as machinery for loading and unloading or a large fleet of vehicles.
Whether it is a new house, an office, commercial premises, etc., we take care of all the relocations. We specialize in carrying out all types of removals for individuals or companies.
How much does a removal in Torremolinos cost?
Normally it depends on the amount of things and size of what you want to move, but the average price is around 450 euros, although it can vary between 150 and 1050 depending on the needs.
How long does it take to carry out a removal in Torremolinos?
Once you contact us, we give you an estimate on the spot and once accepted, we begin to prepare materials and mobilize the fleet.
We also carry out local removals to:
We are specialized in Removals in Ronda
Moving company in Sotogrande with years of experience
We carry out removals to Mijas
Moving company in Marbella with guarantees

Request a quote
Ask us for a customized quotation with no obligation whatsoever.
Contact us at

Social Reviews
Social reviews about Removals services
Social Reviews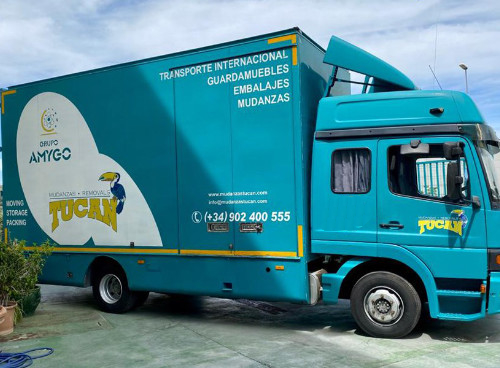 "I have been fortunate to have my company hire Tucan Movers for my international move.
Very professional at all times. Even though my furniture was not of great value, they treated it with more care than I would have taken myself.
They have been very easy to work with, very friendly staff and highly recommended."
"I am very satisfied with the delicacy with which they have treated my belongings. I was very worried because it was my first move and everything went as agreed."
"Incredibly good service. You did the whole move quickly and flawlessly. I highly recommend you."
"Professional service. If you care about your belongings, don't entrust them to just anyone. They assure you the service and it shows professionalism."