Home
/
Removals Sotogrande
Removals Sotogrande
Tucan company
founded in 1993, leader in the national and international market, and in all types of
removals from Sotogrande
, whether for offices or private homes.
We have a large fleet of vehicles, personnel and packing materials specially prepared for a perfect service, guaranteeing the best quality and total reliability.
If you wish we can pack for you:
Crockery
Glassware
Ornaments
Books
Pictures...
All the objects would be well protected so that they do not suffer any damage during the transfer.
The client can also pack it being a little bit cheaper than if we do it ourselves.
We take care of the disassembly and assembly of the furniture.
We dismantle and assemble all the furniture in the new home, including furniture glued or custom-made: murals, boiseries...
We also have
furniture repository in Sotogrande
available in case you need to store your belongings in a safe place while we carry out the removal or simply due to lack of space.
Useful tips for your move
If you have a pet, consider what you will do with it before moving home. Leave it with a relative or in an animal shelter until you have completed the move.
When packing heavy objects, use small boxes and keep large boxes for light objects. This will make it easier to move later.
Check whether the estimate you receive from the removal company includes VAT or not. Don't forget that this type of service is taxed at 21%.
When you are planning to move home, try not to leave everything to the last minute. With a little organization and methodology, you will ensure that this event does not turn into an anguish for you and your loved ones.
Trust professionals and always look for a specialized removal company in Sotogrande that offers quality and efficiency...
Tucan has lifts for different heights, making your move much more comfortable and safe.
We specialize in moving of:
Private homes,
Villas,
Apartments,
Apartments, etc
We carry out removals in Sotogrande either to national or European destinations or to any part of the world.
We also carry out local removals to:
We are specialized in Removals in Ronda
Moving company in Marbella with years of experience
We carry out removals to Mijas Costa
Removal company in Torremolinos with guarantees

Request a quote
Ask us for a customized quotation with no obligation whatsoever.
Contact us at

Social Reviews
Social reviews about Removals services
Social Reviews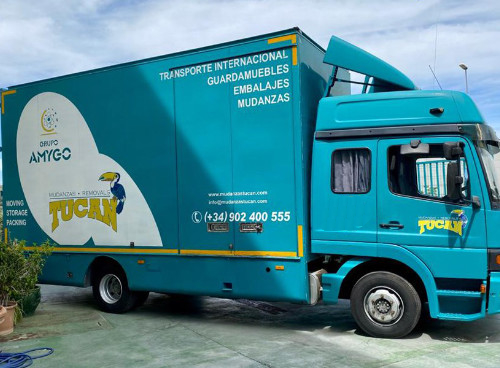 "I have been fortunate to have my company hire Tucan Movers for my international move.
Very professional at all times. Even though my furniture was not of great value, they treated it with more care than I would have taken myself.
They have been very easy to work with, very friendly staff and highly recommended."
"I am very satisfied with the delicacy with which they have treated my belongings. I was very worried because it was my first move and everything went as agreed."
"Incredibly good service. You did the whole move quickly and flawlessly. I highly recommend you."
"Professional service. If you care about your belongings, don't entrust them to just anyone. They assure you the service and it shows professionalism."