Removals Ronda
Do you need a removal service in Ronda? Because if you are looking for a team with more than 25 years of experience as a removal company in Ronda and its surroundings, knowledgeable about the preferred routes, with expert professionals and the necessary machinery to make your move in the streets of this city as easy as possible, we would like to introduce you to our service.

We know how complex a moving process is and how stressful it can be. For this reason, we have worked hard day after day to become the leader in removals in Ronda, gaining the trust of the removals companies in this town thanks to our serious, professional work and, above all, one that will make your move easier, knowing you are in the best hands.

All this thanks to our service that consists of:
A large fleet of vehicles that can be adapted to the location and size of each removal, and are specially equipped to transport furniture and belongings.
Forklifts and furniture lifts to ensure the most appropriate loading and unloading depending on your residence of origin or destination.
The union of an agile and quality work thanks to the experience of our moving team.
Removals company in Ronda
In addition, we have managed to position ourselves as one of the best moving companies in the province of Malaga thanks to our direct and reliable communication with each client, which will let you know that we plan your move as the first one, with the care and dedication that every moving process requires.
You can also leave in our hands the professional packing of all your furniture and large belongings, which we do only with the best materials and the best protocols for each type of object, with special techniques for the transfer of valuable objects, which we work from the highest qualification and care they need so you can fully trust in the success of our removals in Ronda.
We carry out urgent removals in Ronda
We have spent time improving and learning until we were able to offer you a removal service in Ronda in record time and, what's more, always keeping our removals in Ronda at competitive prices.
All this thanks to our learning process, which has allowed us, firstly, to offer you a wide variety of options so that your move in Ronda can be adapted to your needs, both in terms of vehicles and the personnel and machinery required, which allows us to work better and faster.
This flexibility also extends to packing, so we save you time by providing you with all the material you need if you want to do it yourself, so that with just one removal company in Ronda you will have all the resources you need for your move, as we also take care of any bureaucratic or administrative procedures that may be necessary.
Our efficiency is also based on the total punctuality that characterizes us, offering full availability so that you can organize your moving schedule as best suits you. What's more, we will keep you constantly informed of the status of your move to Ronda.
Our work methodology is based on an integral management of quality, environment, safety and health in our activity as a removals company in Ronda.
If you would like to check our conditions and service, don't hesitate to contact us and we will advise you without obligation, designing the most suitable price for your move in Ronda.
How much does a removal in Ronda cost?
The average price of a removal in Ronda is around 400 euros, usually ranging between 100 and 1000 euros, depending on the characteristics of the move.
How much does it cost to carry out a move in Ronda?
If we consider the whole planning process involved in a relocation, the time it generally takes to carry out a removal in Ronda is between 1 and 2 months.
We also carry out local removals to:
We are specialized in Removals in Marbella
Moving company in Sotogrande with years of experience
We do removals to Mijas Costa
Moving company in Torremolinos with guarantees

Request a quote
Ask us for a customized quotation with no obligation whatsoever.
Contact us at

Social Reviews
Social reviews about Removals services
Social Reviews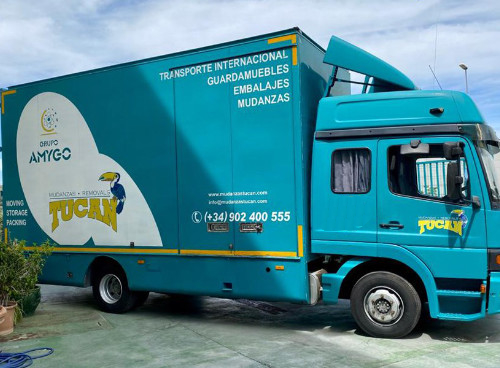 "I have been fortunate to have my company hire Tucan Movers for my international move.
Very professional at all times. Even though my furniture was not of great value, they treated it with more care than I would have taken myself.
They have been very easy to work with, very friendly staff and highly recommended."
"I am very satisfied with the delicacy with which they have treated my belongings. I was very worried because it was my first move and everything went as agreed."
"Incredibly good service. You did the whole move quickly and flawlessly. I highly recommend you."
"Professional service. If you care about your belongings, don't entrust them to just anyone. They assure you the service and it shows professionalism."