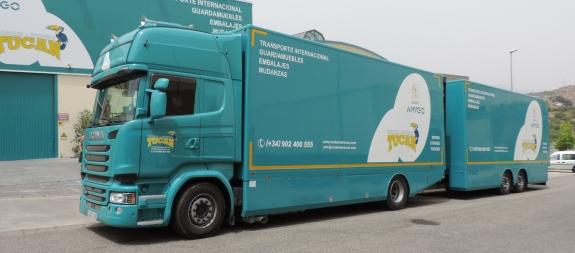 National and international removals
The security and peace of mind you need to move your belongings.
With our removal services in Málaga you will find the security and peace of mind required when you need to move your possessions, we put at your service a complete team of professionals in the moving industry in Málaga, we also offer our services for your National, International removals and container storage.

From Mudanzas Tucan, we can also offer a storage service in Málaga so that you can deposit all the necessary furniture and personal belongings for as long as you need it.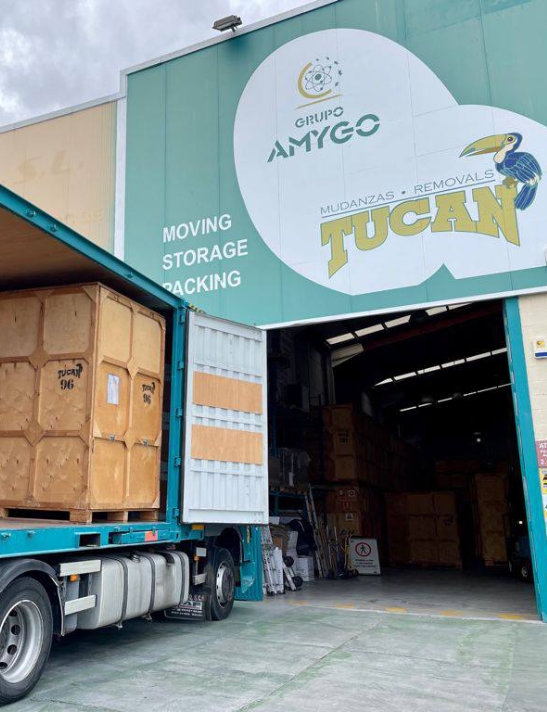 Mudanzas Tucán
Leaders in Malaga's removal sector
If you are thinking of moving home please do not hesitate to trust in us something as important as moving your household possessions, trust in a leader in this industry, Mudanzas Tucan. Please contact our removal company in Málaga and we will attend you and inform you of all the possibilities and services we can provide for your removal and offer you a no obligation quotation.

Moving specialists in Malaga
Our main goal is to make your move, large or small, as comfortable as possible. You will have the guarantee and security that comes with doing it with a leading company in the sector. With our moving services in Malaga you will have the security and peace of mind you need when transporting all your belongings.
All this, putting at your disposal a complete team made up of the best professionals in the removals sector in Malaga, in addition to a wide range of services that, if you continue reading, we will tell you below.
Contact us!
Antiques and works of art
We carry out art removals using the most advanced means of transportation in terms of protection and security.

Special packaging
We are specialists in preparing everything that a relocation requires.

Furniture mounter
We have elevators for moving up to 33 meters (11 floors) and with a load capacity of up to 400 Kg.

Piano removals
At Mudanzas Tucan we have professionals specialized in handling and transporting pianos.

Mudanzas Tucán
Contact us
Mudanzas Tucán
For any questions please fill in the attached contact form or use the contact details of our offices. We will be pleased to help you.

How can we help you?
Call us at
Mudanzas Tucán
Why choose us as your moving company?
Tucán
Moving company from Malaga
At Mudanzas Tucán, we believe that it is just as important that you can count on an excellent service if you move within the same city, or to another location. For this reason, we offer a comprehensive service in which you can count on the personnel and the fleet that provide you with the packaging, assembly, disassembly, transport and reception of all your objects with the highest degree of attention and care, and always adapting to your needs.
Administration and resolution of all requirements to be fulfilled
International removals are complex processes that require a high degree of attention and delicacy. At Mudanzas Tucán we approach these processes taking into account and fixing every detail, so that there is no margin for error. For this reason, we facilitate the administration and resolution of all those requirements, fees and actions to be fulfilled.

We take care of organizing procedures (inform you of taxes, customs...), transportation by water, land and sea as well as any other required documentation.
Storage service available
In a move you may need a space to keep what you decide not to take with you in the best conditions, at Mudanzas Tucán we have enabled a Furniture Storage service designed for the optimal conservation of your objects.

Thanks to our system of wooden containers, we offer a simple and safe solution so that you can keep and save those you want, with the peace of mind that they will not suffer any risk and will have a constant surveillance system.

With a wide range of possibilities for space and conditioning, Mudanzas Tucán offers you the most competitive 24-hour guarded storage facility in Malaga.
Moving of valuable objects
We have a specific protocol and personnel for the transfer of valuable objects, which ensures the special adaptation, conditioning or packaging that these types of objects need. Client Testimonials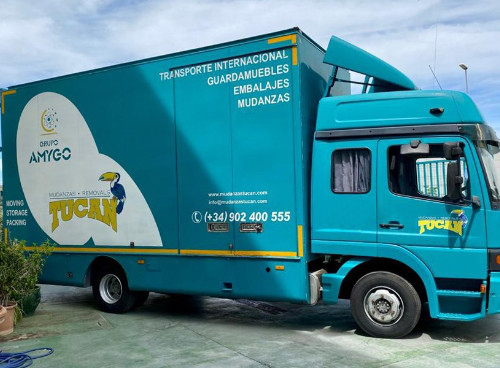 "I have been fortunate to have my company hire Tucan Movers for my international move.
Very professional at all times. Even though my furniture was not of great value, they treated it with more care than I would have taken myself.
They have been very easy to work with, very friendly staff and highly recommended."
"I am very satisfied with the delicacy with which they have treated my belongings. I was very worried because it was my first move and everything went as agreed."
"Incredibly good service. You did the whole move quickly and flawlessly. I highly recommend you."
"Professional service. If you care about your belongings, don't entrust them to just anyone. They assure you the service and it shows professionalism."