Home
/
Removals Mijas Costa
Removals Mijas Costa
Tucan Removals specialise in local domestic or commercial moves, specialists in removals Mijas Costa, local, national and international, we also offer container storage.
Our International Removals Mijas firm has been established for over 15 years, offering a complete shipping service throughout all worldwide destinations by Sea, Air and Overland. 
Your international removal mijas should start with a call, an e-mail or a fax to our offices informing us of the origin and the destination of your removal.
Our services include container storage and packing, we are specialists in antiques, works of art and pianos.
Our teams are friendly and professional. We are at your entire disposition to help with your move to or from Mijas Costa.
If you wish, we can make a complete move for you in Mijas Costa, packaging, assembly and disassembly of furniture and lamps, curtains and pictures. If not you can perform such tasks as packing your effects, the most economical budget. We are open to all possibilities.
We realize from the smallest removal service, to the most complete removal. It may be that you need to change a couch, or a room, or perhaps bought a piece of furniture and will not go up the stairs or reforming your home and need to change the furniture around.
Ask and surely we can solve your problem.
All our work moving work in Mijas Costa is guaranteed, because we have qualified and experienced staff. 
We have insurance, which covers the objects we carry from the time we start to manipulate them until they reach their final destination either in Mijas Costa or anywhere in the world.
When hiring the services of a moving company its best to request quotes from various companies and ask neighbours, friends and family, surely one of them will have passed through this and can supply you with ideas and information.
Check that the company you choose is legally constituted. Ask for an approved contract certifying that the company is registered with the Register of Companies engaged in this activity.
We also carry out local removals to:
We are specialized in Removals in Ronda
Moving company with years of experience in Sotogrande
We do removals to Marbella
Moving company in Torremolinos with guarantees

Request a quote
Ask us for a customized quotation with no obligation whatsoever.
Contact us at

Social Reviews
Social reviews about Removals services
Social Reviews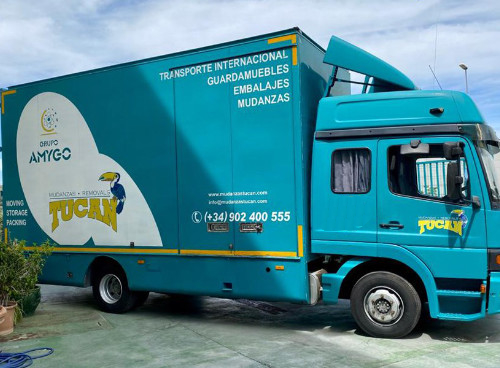 "I have been fortunate to have my company hire Tucan Movers for my international move.
Very professional at all times. Even though my furniture was not of great value, they treated it with more care than I would have taken myself.
They have been very easy to work with, very friendly staff and highly recommended."
"I am very satisfied with the delicacy with which they have treated my belongings. I was very worried because it was my first move and everything went as agreed."
"Incredibly good service. You did the whole move quickly and flawlessly. I highly recommend you."
"Professional service. If you care about your belongings, don't entrust them to just anyone. They assure you the service and it shows professionalism."