Removals Marbella
If your search for "
moving Marbella
" or "
moving company
" has brought you here, you are in the right place. At Tucan, we have a
specific division in Marbella
, since this town has a high flow of removals. Thus, we can guarantee the best attention from the removal specialists in Marbella you were looking for.
Our aim to achieve the full satisfaction of our customers has driven us to strive daily to be
leaders in removals in Marbella
, no matter local, national and international.
Our effort us to grow and to be able to count on:
A large fleet of vehicles, which regularly travel throughout Spain and Europe by land, air or sea from our moving company in Marbella.
Special boxes and materials for packing your belongings by specialists in removals.
Up-to-date technology such as elevators and furniture lifts to move your belongings without any risk, reducing the time of any move.
Furniture storage service with modern facilities where we can store any object that you do not want to take with you on your move from Marbella, with more than 200 conditioned containers.
To use this service, you do not need to move from Marbella, because we go to your residence with our containers for both loading and unloading, to avoid double handling.
More than 25 years doing removals
We have been improving our service for more than 25 years, obtaining the best ratings from our customers as a moving company.
Our experience over the years has made us more and more aware of the stress that moving home can involve, so we know that good preparation and planning by our removal specialists in Marbella can save you a lot of hassle, make the process easier and let you know that you are in good hands.
We are well aware that moving home can be complicated and tedious. We can help you.
Check our prices for removals in Marbella
The first thing our clients notice is that we are a serious company that understands their concerns regarding to their move, and that we strive to resolve and facilitate the entire removal process, taking into account the particular requirements of each one. And all this offering a personalized price, adjusted and without surprises.
We simplify the completion of your procedures completely free of charge, all thanks to the great team of experienced professionals and leaders in efficiency, who work as the first day in each of our relocations.
The motivation for quality that characterizes us and leads us to be specialists in removals, is not reflected in a higher cost, as the price for our removals is personalized for each client.
You can check this by contacting us and we will provide you with all the information you need: work methodology, how long a move takes, price of removals in Marbella, etc.
How to start the removal?
Once you want to start the moving process, our technician will visit your facilities to study your needs and carry out a thorough analysis of your requirements. From this analysis, we can evaluate the cost of the move, and decide with you the strategy to be carried out so that our service is safe and effective.
How much does a removal in Marbella cost?
The average price of a removal in Marbella is 600€ for distances of 50 km and 1000€ for distances of 300 km. This price varies according to the requirements of each removal.
How long does it take to carry out a removal in Marbella?
The average time for planning, organizing and carrying out a removal in Marbella varies between 1 or 2 months depending on the implications of each move.
We also carry out local removals to:
We are specialized in Removals in Ronda
Moving company with years of experience in Sotogrande
We do removals to Mijas
Moving company in Torremolinos with guarantees

Request a quote
Ask us for a customized quotation with no obligation whatsoever.
Contact us at

Social Reviews
Social reviews about Removals services
Social Reviews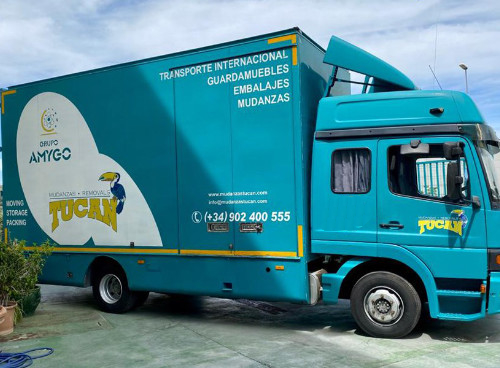 "I have been fortunate to have my company hire Tucan Movers for my international move.
Very professional at all times. Even though my furniture was not of great value, they treated it with more care than I would have taken myself.
They have been very easy to work with, very friendly staff and highly recommended."
"I am very satisfied with the delicacy with which they have treated my belongings. I was very worried because it was my first move and everything went as agreed."
"Incredibly good service. You did the whole move quickly and flawlessly. I highly recommend you."
"Professional service. If you care about your belongings, don't entrust them to just anyone. They assure you the service and it shows professionalism."