Moving company in Estepona
Do you have to carry out a removal in Estepona? In this case, you will need to organize relocations, administrative procedures, packing, dates... Everything that is easier and simpler if you have an experienced removal company in Estepona that is completely focused on offering the best quality service in the town, from the Playa del Cristo beach to the bus station. At Mudanzas Tucan, we are that team.
Experienced in removals to Estepona
Thanks to more than 25 years of experience carrying out removals to and from Estepona, we have optimized our work to become experts in removals to Estepona.
We have special machinery to access the most difficult locations in Estepona, in addition to using special packaging to ensure that your goods and furniture arrive in perfect condition at their destination.
Among the packaging we use for our removals in Estepona are high-strength wooden boxes, bubble wrap, polyurethane foam, foam edges, protective covers, 5-layer paper blankets, etc., which we use with the best packaging techniques that reinforce those parts and more fragile objects of your belongings.
To this we must add a fleet of trucks and vans that we adapt to the size and needs of your move, paying special care and attention to the transfer of the most valuable objects.
Check our prices for removals in Estepona
As experts in removals in Estepona, our clients already know that we are guided by seriousness and professionalism, always putting the interests of our clients first and adapting to the dates and volume of your move to the millimeter. And with a personalized estimate for removals in Estepona, prices for removals in Estepona that are validated in a relocation of optimum quality that have allowed us to maintain the good reputation of our years of experience in Estepona.
We offer a full moving insurance that you can include in the price of your move and that will allow you to know that you are in the best hands, eliminating stress and coordinating with our professionals every detail of your move.
In this process, we offer you:
Contracts formalized on paper that protect all the conditions of your move in Estepona.
A written estimate, adjusted to the needs of your move, itemized to justify every detail and without surprise modifications.
A moving company fully governed by the current regulations of the sector, registered, with liability insurance and the experience that allows us to anticipate any incident thanks to our years as experts in removals in Estepona.
Do not hesitate to contact us by phone, email or whatsapp, and we will be happy to inform you. In Tucan, we want to become your removal company in Estepona.
How much does a removal in Estepona cost?
On average, a removal in Estepona ranges between 400 and 500 euros, with the price varying depending on the needs and the distance involved.
How long does it take to carry out a removal in Estepona?
Ideally, it is best to start organizing it 1 or 2 months beforehand, but it should not take more than 3 weeks to prepare a removal in Estepona.
We also carry out local removals to:
We are specialized in Removals in Ronda
Moving company with years of experience in Sotogrande
We carry out removals to Mijas Costa
Hire a removal company in Marbella with professionals
Moving company in Torremolinos with guarantees

Request a quote
Ask us for a customized quotation with no obligation whatsoever.
Contact us at

Social Reviews
Social reviews about Removals services
Social Reviews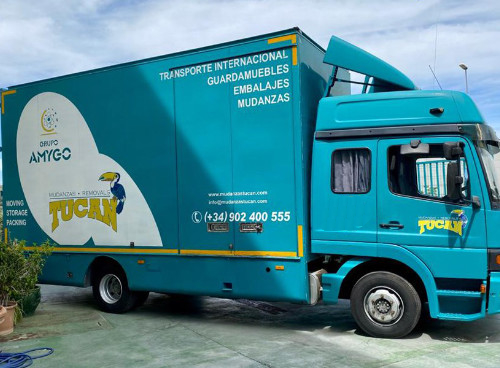 "I have been fortunate to have my company hire Tucan Movers for my international move.
Very professional at all times. Even though my furniture was not of great value, they treated it with more care than I would have taken myself.
They have been very easy to work with, very friendly staff and highly recommended."
"I am very satisfied with the delicacy with which they have treated my belongings. I was very worried because it was my first move and everything went as agreed."
"Incredibly good service. You did the whole move quickly and flawlessly. I highly recommend you."
"Professional service. If you care about your belongings, don't entrust them to just anyone. They assure you the service and it shows professionalism."