Home
/
Removals Fuengirola
Removal Company in Fuengirola, Spain
Your removals Fuengirola should start with a call, an e-mail or a fax to our offices in Mijas Costa, Malaga informing us of the origin and the destination of your removal.
Our office staff will arrange an appointment with you so that one of our removal consultants can visit you, discuss your future move and inspect the quantity of effects you require to be moved.
Shortly after our visit you will receive in your home our written quotation for your removals Fuengirola, clearly stating the price of your removal as requested and any further information related to the removal, price of insurance, taxes etc.
Once you have accepted our quotation we will arrange with you the dates of collection and delivery (depending on the service required) and organise any documentation that may be required for your removal.
On the day of the collection our uniformed staff will arrive at your residence and begin the packing of your effects (sometimes we may need various days to complete the packing and collection depending on the volume to be moved, we will advise the days needed).
All small items will be wrapped in white packing paper (bubble wrap or tissue paper) and packed in to our high quality boxes , we have different types of boxes depending on the items to be packed, for some items of furniture (table-chairs-sofas-tv-pianos) we have tailor made covers for extra protection and the beds in to new plastic covers.
On completion of the packing and preparation your effects will be carefully loaded in to one of our removal vehicles and transported to your new residence.
On arrival at your new address our removal crew will unload, unpack, (if requested in your quotation) set up your effects and remove all the debris (packing material).
Your removals Fuengirola with the company Removals Tucan without problems. Welcome to your new home

Request a quote
Ask us for a customized quotation with no obligation whatsoever.
Contact us at

Social Reviews
Social reviews about Removals services
Social Reviews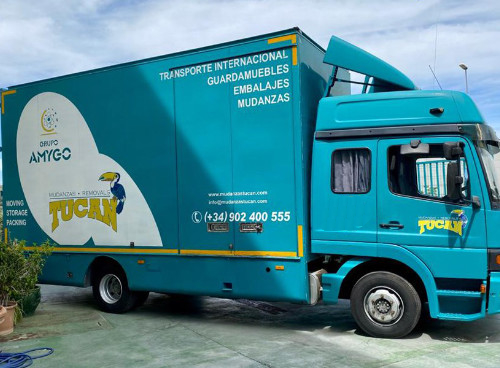 "I have been fortunate to have my company hire Tucan Movers for my international move.
Very professional at all times. Even though my furniture was not of great value, they treated it with more care than I would have taken myself.
They have been very easy to work with, very friendly staff and highly recommended."
"I am very satisfied with the delicacy with which they have treated my belongings. I was very worried because it was my first move and everything went as agreed."
"Incredibly good service. You did the whole move quickly and flawlessly. I highly recommend you."
"Professional service. If you care about your belongings, don't entrust them to just anyone. They assure you the service and it shows professionalism."