Storage Malaga and Manilva
Storage service in Estepona
At Tucan we offer you a comfortable and reliable furniture repository in Estepona where you can store your belongings for as long as you wish.

The first thing we need to do is to make an inventory of the furniture or materials you wish to store, before starting the work. If necessary, we can dismantle the furniture and / or pack them with high quality materials to preserve the objects.

Everything will be inventoried and registered, first and foremost for your peace of mind.

A furniture repository is the most convenient and safe way to store your furniture and belongings if you are planning to leave your house soon, if you are undergoing renovations or if you do not have enough space in your home and do not want to do without your belongings.

We have a qualified, trained staff with experience in dismantling, assembling and packing all types of furniture. We also have all the necessary machinery for the proper treatment of your furniture.

For us, security comes first, that is why our furniture repository in Estepona has permanent surveillance and security 24 hours a day. To give you the peace of mind that your furniture and belongings are insured against theft and fire.
Rent your furniture repository in Estepona
Renting a furniture repository in Estepona to store your furniture and belongings is the best option you can choose. We protect the integrity of the items you give us and, if they are damaged, we will be responsible for their restoration.
The furniture repository in Estepona that we rent, are of different sizes and volume, so we can offer you different furniture repository rentals according to your needs.
Once you rent your furniture repository in Estepona, we take care of the collection and delivery of your belongings in your home, office or anywhere you tell us.
We send you a clear, no-obligation estimate, and we also have comprehensive insurance and goods insurance.
For your peace of mind and the care of your furniture and valuables, trust Tucan, a furniture repository in Estepona.
How much does it cost to rent a furniture repository in Estepona?
The price of the furniture repository depends on the size you may need, but have an average price of 950€.
What is the difference between a furniture repository and a storage room?
The furniture repositories are of different sizes in order to adapt to any customer's needs, however, the storage rooms are usually the same size.
Storage services nearby:
We offer furniture storage services in Sotogrande
Check the price of furniture repository in Marbella
The best furniture repository in Malaga
Find and rent a furniture repository in Fuengirola
Cheap furniture repository in Mijas Costa

Request a quote
Ask us for a customized quotation with no obligation whatsoever.
Contact us at

Social Reviews
Social reviews about Removals services
Social Reviews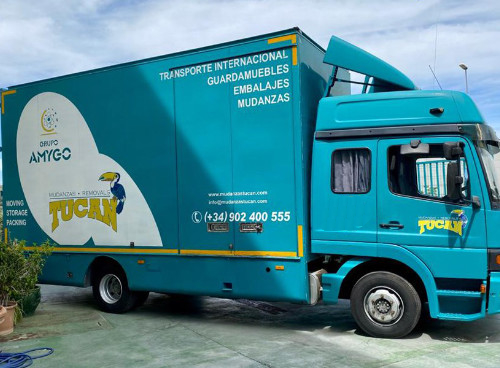 "I have been fortunate to have my company hire Tucan Movers for my international move.
Very professional at all times. Even though my furniture was not of great value, they treated it with more care than I would have taken myself.
They have been very easy to work with, very friendly staff and highly recommended."
"I am very satisfied with the delicacy with which they have treated my belongings. I was very worried because it was my first move and everything went as agreed."
"Incredibly good service. You did the whole move quickly and flawlessly. I highly recommend you."
"Professional service. If you care about your belongings, don't entrust them to just anyone. They assure you the service and it shows professionalism."