International air shipments
International air shipments
In Tucan we
move your belongings by plane to anywhere in the world
. We take care of the pick up and delivery at the new address or if you wish, at the destination airport.
We offer a comprehensive moving service that includes customs clearance and management, it is a very complex process especially between non-EU countries.
How are air shipments made?
Air shipments are carried out in containers approved by the airlines.
International air shipments have the advantage of being very fast but at the same time very expensive due to all the elements involved in the process. Air shipments are invoiced by weight.
We help you in this, optimizing costs by placing your belongings in a way that maximizes the space of the container, we also opt for packaging and boxes that protect your belongings to the maximum.
Characteristics of removals by plane
Free quotation without obligation
Advice on the most economical airport of arrival
Disassembly of furniture and export packing to make your air shipment safer.
Labeling to mark your belongings.
Customs management
Information on arrival times, stowage day and tracking of your shipment until arrival at destination port.
Door to door moving by plane
In Tucan we offer door to door moving by plane from Malaga to any destination, offering a door to door service. In addition, to make things easier for you, we advise you on the most suitable transport and airport option.
We carry out integral removals, we take care of preparing the whole process of your removal in Malaga to any place you choose.
To guarantee a safe move without mishaps, we work with civil liability insurance policies and we also have an optional all risk insurance.
How much does it cost to move by plane?
The price of moving by plane depends mainly on the weight of the belongings you want to transport.
How long does an air moving take?
Depending on the destination, but normally between 4 and 7 days.
In addition to Air Movers:
We perform international maritime moves from Malaga
International air shipments

Request a quote
Ask us for a customized quotation with no obligation whatsoever.
Contact us at

Social Reviews
Social reviews about Removals services
Social Reviews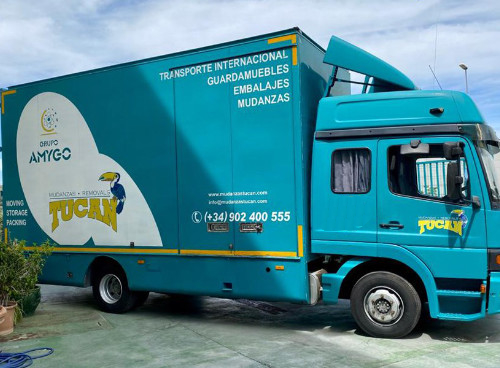 "I have been fortunate to have my company hire Tucan Movers for my international move.
Very professional at all times. Even though my furniture was not of great value, they treated it with more care than I would have taken myself.
They have been very easy to work with, very friendly staff and highly recommended."
"I am very satisfied with the delicacy with which they have treated my belongings. I was very worried because it was my first move and everything went as agreed."
"Incredibly good service. You did the whole move quickly and flawlessly. I highly recommend you."
"Professional service. If you care about your belongings, don't entrust them to just anyone. They assure you the service and it shows professionalism."